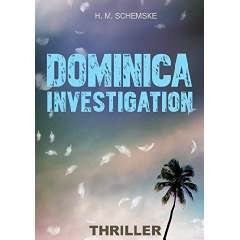 DOMINICA INVESTIGATION
(Thriller, English Edition) Click to see the English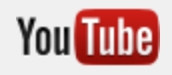 -TRAILER
Wolf Hammer gets the assignment to track down a group of missing refugees from Haiti. Their track is lost on the Caribbean island of Dominica.
"There are many poor countries in this world, but one Island, some call it the Magic Island, is sure the worst. I'm speaking of Haiti."
Wolf Hammer nodded silently. He leaned back in his chair. They were on the top floor of the City Hotel in Freiburg, and with the lights dimmed they could see the thousand stars and glitter of a town at night, fully illuminated.

"A gripping story with a pinch of esotericism.
Hammer is caught in a quagmire of corruption,
magic and crime."
- lesenistgold.de -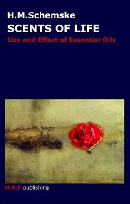 SCENTS OF LIFE (English Edition)
The scents, composed by nature, developing from essential oils, actually are entire symphonies. They can help us to meditate, to relax, to concentrate, to think and to plan. They release, calm and stimulate and give us olfactoric motives to achieve inner harmony. The book derives from a long experience with essential oils and gives the background, the knowledge of the right dose as well as many recipes for food and drinks, natural baths, lotions and massages.
"The odours are used to open the subtle energy channels of the body in many ceremonies of cultural and medical tradition in India. In brain rejuvenating, curing through nasal passage, the sense of smell and odour are as important as the other senses."
Dr. Vinod Verma, New Delhi, India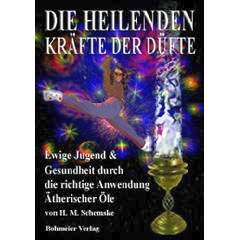 DIE HEILENDEN KRÄFTE DER DÜFTE
Ewige Jugend & Gesundheit durch die richtige Anwendung Ätherischer Öle.
Die Kräfte Heilender Düfte sind Essenzen von großer Kostbarkeit. Richtig zur Anwendung gebracht verlängern sie unser körperliches und geistiges Leben, wirken auf unsere Persönlichkeit und verleihen uns Wohlbefinden. Dieses Buch bietet eine Vielzahl wertvoller und hochwirksamer Rezepte: Mischungen für Cremes, Lotionen und Bäder werden uns ebenso vorgestellt wie Speisen und Getränke, heilsame, belebende und beruhigende Massagen sowie Duftkompositionen zur Aromatisierung unserer Wohnräume, zur Förderung der Meditation oder auch zur Erzeugung erotischer Stimmungen.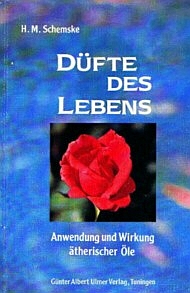 DÜFTE DES LEBENS
Die von der Natur komponierten Düfte, die von ätherischen Ölen ausgehen, sind in Wirklichkeit ganze Duft-Symphonien. Wie sie beruhigen, anregen, zum Wohlbefinden führen und uns deutlich beeinflussen können, erfahren Sie in diesem Buch; aus der Praxis einer jahrelangen Erfahrung mit ätherischen Ölen.


Ob ein Hardcover, ein Taschenbuch, oder ein praktisches eBook, das Sie auch an Ihrem Laptop oder PC lesen können, für spannende Leseabenteuer wünscht Ihnen viel Spaß,
Ihr
H. M. Schemske